Love binds our souls
and transforms us
in One Being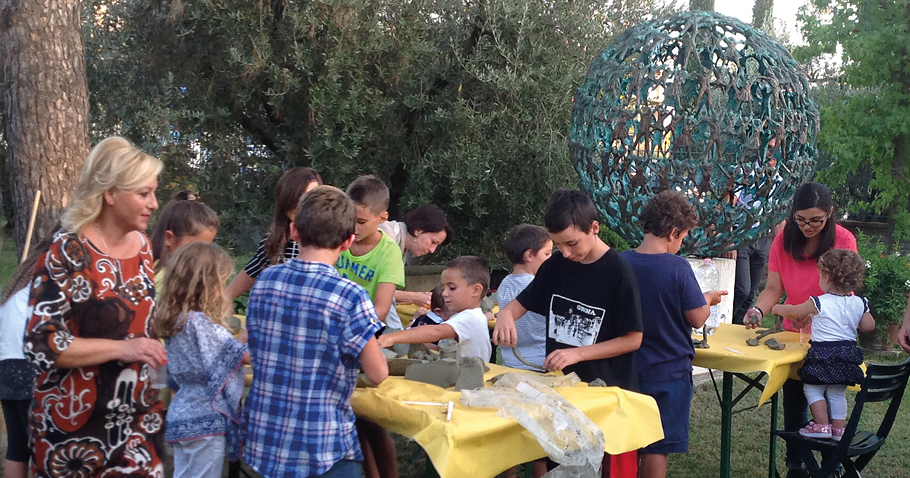 Art for Young is a project initiated by Andrea Roggi in 1999.
The sculptor has constantly endeavoured not only to promote his art to an adult and informed audience, but also to attract young people, who often are not sufficiently motivated to discover and engage with art, which is in fact perceived as confined to an elite and closed in on itself.
By founding the Parco della Creatività ® in Manciano, a hamlet in the municipality of Castiglion Fiorentino located at the heart of Valdichiana, Andrea Roggi takes the initiative to reassert the role of art as a shared value accessible to all. Placed in an open-air garden, the sculptures create indeed a park for recreational and learning activities, where kids are encouraged to explore their creativity through the arts, in whatever form they can best relate to.
A play area and a gathering place made up of poets, story-tellers, dreams and fairy tales running after one another in flying and cheerful round dances, the park becomes also a true playground for children, since the artist's creations are imbued with a sense of serenity and playfulness as those representing The game of life. It is no coincidence that Roggi's works appeal also to children and kids, perhaps because they see in them an image of their childhood games and dreams and therefore fall under their spell.
Over the years the Parco della Creatività ® has developed into a recognized benchmark in the promotion of culture and art in all its forms, hosting events, exhibitions and conferences focused on these topics and open to young artists, who have been invited to showcase their works and become actively involved.
Andrea Roggi wanted to create a meeting point, a physical location where kids could open up to the arts in total confidence, without fear of embarking on a journey overly difficult for them or their age, an environment in which children are encouraged to express themselves freely and creatively.
Young people are particularly receptive to Roggi's art because they immediately grasp its meaning, as the sculptures convey straightforward and easily-understandable messages. Far from being obscure, difficult to digest or appreciate, his art is direct and communicative, carrying a universal message capable of reaching everyone.